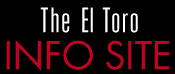 NEWS BLOG - LATEST HEADLINES

December 2015

Special notice

El Toro Info Site to wrap up after nearly 20 years


Leonard Kranser, who has been posting Southern California airport related news to the El Toro Info website since 1996, will wrap up the site by the end of the year. This marks the end of one of the Internet's longest running blogs and a final footnote to the El Toro reuse debate, one of Orange County's most polarizing political issues.

In 1996, use of the Internet for political activism was a new concept. Kranser, graphic designer Dan Finch, and a small team of volunteers, launched the website early in the fight over Orange County's plan to convert the former Marine Corps Air Station at El Toro to a major international airport. The website informed the public about the project, connected diverse anti-airport groups on one platform and fueled grass-roots activism that helped pass two countywide initiative campaigns.

With an annual budget of only a few hundred donated dollars, the El Toro site built an email list of almost 20,000 Orange County residents who received news updates and meeting alerts. Thousands of viewers spread the website news and commentary to their unconnected neighbors.

Information not easily available to the public - gleaned from Freedom of Information Act inquiries, environmental reports, or correspondence with aviation industry and government officials - was made accessible on the website. In a symbiotic relationship, the website supplied information to traditional media reporters and letter writers; their newsprint references to the website spurred website viewership.

In 1999, the Orange County Chapter of the Public Relations Society of America gave the website its Award of Excellence for Internet and On-Line Marketing.

In 2000, volunteers, many recruited via the Internet, collected a record breaking 195,000 signatures on petitions to qualify anti-airport Measure F for the countywide ballot. Measure F's landslide victory ended the county government's airport planning. In 2002, website volunteers teamed with professionals from South County cities, sparking efforts to get out the vote and fund the Measure W campaign that finally killed the airport project.

In 2002, as the fight over the airport wound down, Kranser summed up lessons learned in a book, Internet for Activists. A hands-on guide to Internet tactics field-tested in the fight against building El Toro Airport. Stephen Burgard, Director of the Northeastern University School of Journalism and previously editorial writer for a major Southern California newspaper during the El Toro campaign described Internet for Activists as "a how-to manual for Web-based political activism. The relationship between citizens and their government will never be quite the same again," he wrote.

In his book, Kranser listed over a dozen websites - both for and against the airport - that followed his into the fray, but estimated that the El Toro Info Site drew more online viewers that all the others combined.

In 2005, OC Business Journal editor and airport proponent Rick Reiff, commenting that "history is written by the victors", published Kranser's wrap up analysis on "The Grounding of El Toro". It summarized key factors behind the airport project's demise, from the perspective of a participant who chronicled the debate on a daily basis.

After the defeat of the El Toro Airport plan, the website turned its sometimes acerbic attention to other commercial airport issues in Southern California. Frequently the news showed one group of airport neighbors, or their political representatives, trying to push airport noise onto neighbors of another airport. Los Angeles politicians spent heavily - hundreds of taxpayer dollars per passenger - to bus passengers away from LAX to the doomed Palmdale Airport. San Diego groups attempted to pry a piece of Miramar Naval Air Station away from an unwilling military so as to move flight traffic away from Lindbergh Field. Newport Beach obtained an Orange County Transit Authority grant to study ways for inducing Disneyland visitors to fly into Ontario rather than the nearby John Wayne Airport. Los Angeles agreed to close gates at LAX to appease its neighbors, hoping that air travelers would just go someplace else.

However, the excitement of the highly public El Toro debate was gone. When the County of Orange added a spacious third terminal to John Wayne Airport, and then continued the airport's restrictions on the number of passengers and flights, there was scant public discussion. Ordinary citizens were allowed to submit comments on the Environmental Impact Report, but it was essentially a done deal.

Nothing was happening in the airport scene like the long-running open discourse over El Toro that had engaged thousands of involved activists, including Kranser. Len began thinking about winding down the website after nearly 20 years.

The final shove came, surprisingly, from the introduction of Microsoft's Windows 10. Software that Kranser had used for years to edit and publish the site will no longer work with the new Microsoft operating system. With a bit of sadness, Len is preparing to archive all those years of Internet news, analysis and data and call it a day.


---
To Protect Citizens From More Airplane Noise Long Beach Now Must Expose Them To More Airplane Noise

- Forbes.com

From the "Man Bites Dog" file we learned this week that there's just not enough noise at Long Beach Airport in California. In fact, the City of Long Beach, which owns and operates the airport commonly known as LGB 22 miles southeast of Los Angeles International (LAX), is legally required to allow nine more commercial flights each day.

If it fails to allow those additional flights the unique local ordinance that keeps LGB from creating too much resident-annoying noise will be voided. And because Long Beach is the only U.S. city in the last 29 years to successfully get a local noise ordinance limiting commercial service approved over the objections of the Federal Aviation Administration, if the its airport noise ordinance is voided, it likely will never be re-instated.

(Website Editor: John Wayne's noise ordinance dates from1983.)



Thus, Long Beach is in the weird, even non-sensical position of having to allow more noise-making commercial flights in order to retain its right to limit airplane noise.

Confused? That's understandable. It's a concept very much in line with the famous quote attributed to an unnamed U.S. officer fighting Vietnam by famed Associated Press war correspondent Peter Arnett; "It became necessary to destroy the town to save it."

To understand Long Beach's awkward predicament, we have to go back about 20 years, when city leaders there were worried that their little airport - home to a McDonnell Douglas (now Boeing) aircraft manufacturing plant and not much else - might get really busy. Airlines at the time were tinkering with different ways to serve the huge and widely-scattered Southern California population through airports other than the crowded, consumer-unfriendly and increasingly run-down LAX.

Carriers at the time were experimenting by adding flights at John Wayne Airport in Orange County further south, at Ontario International Airport an hour east of downtown Los Angeles, and at Bob Hope Airport in Burbank, north of downtown L.A. A couple of airlines, working through their regional airline partners, even dabbled at offering limited service at Palmdale, 80 miles north of L.A. in the high Mojave Desert.

Long Beach city leaders were horrified that their constituents soon might be shaking to the sounds of lots and lots commercial jets - and complaining loudly to them. But because LGB, like most airports its size, had accepted money from federal sources over the years the city could not simply prohibit commercial airlines from flying there. So those local leaders came up with creative, one-of-a-kind local ordinance that put a cap on the amount of noise at LGB that could attributed to commercial jets. But to win grudging federal approval of the cap, the ordinance also created a floor for how much noise could be made by commercial jets there, too.

After all the complicated math was done, it was determined that Long Beach's airport noise ordinance required the city to allow at least 41 commercial jet flights a day. Technically, there could be more than 41 commercial flights a day there but how many more always has been dependent on how much more noise those additional flights would make.

Luckily for Long Beach residents, the airlines' experiments with increased service to L.A.-area airports other than LAX were never very successful. Most of them reduced or dropped service not only at LGB but also at Ontario, Bob Hope and John Wayne airports. In recent years they've begun focusing on improving their much-maligned facilities at LAX in order to concentrate as much revenue production at that one airport - and to reduce costs and eliminate unprofitable flying at the other LA area airports.
Consequently at Long Beach carriers never reached the 41-flights-a-day floor (though LGB has remained obligated to let airlines operate at least that many flights if they want to). Today, in fact, there are only 14 daily airline departures (and a corresponding 14 arrivals) at LGB. Delta and American each offer two daily flights, while JetBlue offers 10. Those flights go to a total of 15 cities, mostly in the West, but also to Austin, TX, and to both New York and Boston.

But now Long Beach must raise the floor on the number of commercial flights it is required to allow at LGB, even when there appears to be little or no demand for such additional flights.

Why? Because airliners today are, on average, significantly quieter than the ones in wide use back in the early and mid-1990s when Long Beach was negotiating with the FAA to come up with some formula determining the ceiling - and floor - on commercial aircraft noise. The formula was built around the notion of maximum allowable noise during specific periods of time each day. It was that formula, which also included data about the amount of noise produced by aircraft in use at the time that dictated a floor of 41 commercial flights a day.

Now, a recent recalculation of that formula using the noise production data of today's quieter jetliners concluded that Long Beach must allow at least 50 flights a day (if demand exists for that many). Under the terms of the Long Beach noise ordinance, airport officials now have less than 30 days to offer nine additional sets of landing and takeoff rights to the airline community. If no such offer is made, the city's airport noise ordinance will be voided and, at least in theory, the city would have to allow airlines to offer as many flights there as the facility can handle physically.

There's no threat of that happening any time soon. Carriers currently are putting nearly all of their L.A. eggs in one basket at LAX. But who knows, someday they may actually want to begin adding lots of flights at LGB and other L.A.-area airports once again.

So, to paraphrase that unnamed Vietnam-era military office, it has become necessary for Long Beach to inflict (potentially) more aircraft noise on its residents in order to protect them from aircraft noise.


---




Long Beach Airport Must Add Nine Commercial Flight Slots To Comply With Noise Ordinance

- Gazettes

An annual analysis of aircraft operating noise at the Long Beach Airport has led to the conclusion that the city must offer nine more daily commercial flights in order to stay in compliance with the Airport Noise Compatibility Ordinance.

The analysis, conducted by Mestre Greve Associates, is part of the compliance agreement settled in court in 1990. That was the year a baseline was established, figuring the "noise bucket" for three categories of airplane — commercial, commuter and general aviation.

Since that date, the commercial requirement was for Long Beach to offer a minimum of 41 flights a day. Currently, all of those flight slots are allocated.

A Noise Ordinance adopted in 1995 by the City Council requires an annual report on the noise experience in the previous year. The latest report covers Oct. 1, 2014, to Sept. 30, 2015.

Those results showed the air carrier cumulative [noise] totals were well below the allocated noise budget. After additional study and an audit, it was confirmed that Mestre Greve's conclusion that at least nine more flights must be added was correct.

Under the noise ordinance, it is the Airport Director's responsibility to allocate the slots, a process that must be completed within 30 days of the determination that they are available. According to the staff report, the slots will be given out on a first-come, first-served basis. If more than one carrier requests slots, they would be allocated sequentially to each carrier until all the slots were allocated.

There is an appeal process, with the airport director's decision appealable to the city manager. That decision can, in turn, be appealed to the council.

However, the ordinance requirements for slots must be met, or the entire ordinance could be in jeopardy. Long Beach is one of the few airports in the nation to have an ordinance allowing it to limit the number of flights based on noise.

JetBlue, the commercial carrier that holds most of the commercial slots, requested earlier this year that the city study and file for designation as an international airport. Results of that study have not returned to the City Council.

Website Editor: The Long Beach restrictions on noise allow for adding flights when quieter aircraft come on line. This is different from the restrictions at John Wayne Airport where quieter aircraft do not change the number of passengers allowed to be served. The Long Beach approach seems more reasonable.